Kurzkritik: Dope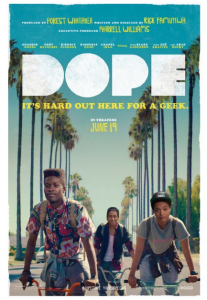 Comedy/Drama, USA 2015
Regie: Rick Famuyiwa; Darsteller: Shameik Moore, Tony Revolori, Kiersey Clemons, Zoe Kravitz
In aller Kürze: "Superbad" meets "Friday" meets "Boyz n the Hood" meets "Dazed and Confused".
Worum geht's? Drei Highschool-Außenseiter aus Inglewood, Los Angeles, geraten zwischen die Fronten von Drogengangs.
Die gute Nachricht: Ein Fest für Freunde von 90's-HipHop, temporeich und witzig, dabei aber mit genug Anspruch, jenseits der Comedy-Elemente eine relevante Geschichte zu erzählen.
Die schlechte Nachricht: Als 'Lehrstück' kann der Film nur bedingt nur überzeugen, einige Wendungen der Story sind ziemlich vorhersehbar .
Wer diese Filme mochte sollte einen Blick riskieren:
"Superbad", "Friday", "Boyz n the Hood", "Dazed and Confused"
4/5