Filmkritik: Out of the Furnace (Auge um Auge)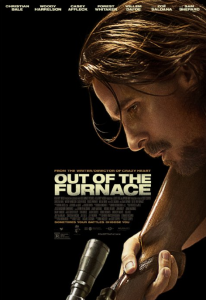 Drama, USA 2013
Regie: Scott Cooper; Darsteller: Christian Bale, Woody Harrelson, Casey Affleck, Zoe Saldana, Willem Defoe, Forrest Whitaker
Düster und tragisch geht es im neuen Film von "Crazy Heart"-Regisseur Scott Cooper zu. Russell Baze (C. Bale) arbeitet in einem Stahlwerk in Pennsylvania, sein Bruder Rodney ist als Soldat mal zuhause, mal im Irak-Einsatz, während ihr Vater im Sterben liegt. Und es wird nicht besser…
Gleich die ersten Szenen geben den Ton des Films vor. Woody Harrelson spielt einen Brutalinski, der im Autokino ziemlich grundlos ausrastet und mächtig austeilt. Ihn wird Rodney, der nach dem Armeedienst bei illegalen Boxkämpfen sein Geld verdient, noch kennenlernen.
"Out of the Furnace" funktioniert gut als Milieustudie, zeigt glaubwürdige Figuren aus einer Arbeiterklasse, die ums Überleben kämpft. In gemächlichem Tempo dauert es eine Weile, bis es zur finalen Konfrontation kommt, zu einem altmodischen Showdown – der von der ersten Minute an (auch wegen der besetzten Schauspieler) in der Luft liegt.
Bis in die Nebenrollen hochkarätig besetzt kann der Film inszenatorisch ebenfalls überzeugen. Doch im Gegensatz zu vergleichbaren Filmen (ich denke da an "A History of Violence" oder "Winter's Bone") fehlt mir hier irgendwie ein besonderes, herausragendes Element. Man kann "Out of the Furnace" als fundamentale Kritik an der modernen westlichen Welt verstehen – die hätte ich mir dann aber etwas konkreter und zielgenauer gewünscht. Es bleibt unter dem Strich ein überzeugendes, wenn auch zuweilen etwas zähes, Drama.
4/5