Kurzkritik: Knight of Cups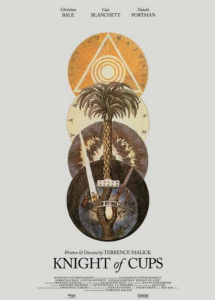 Drama, USA 2015
Regie: Terrence Malick; Darsteller: Christian Bale, Wes Bentley, Natalie Portman, Cate Blanchett
In aller Kürze: In Episoden erzählter Film von Terrence Malick, den "Tree of Life"-Fans mögen werden, während alle anderen ihn besser meiden.
Worum gehts? Um einen erfolgreichen Drehbuchautor in Hollywood, der zwischen Trauer, Affairen, Aufarbeitung und Eskapaden seinen Platz im Leben sucht.
Die gute Nachricht: Malicks Stil – kein Plot, wenig Dialoge, viel bedeutungsschwangeres Gerade aus dem Off, fantastisch komponierte (Natur-)Bilder – schafft eine bemerkenswerte Stimmung.
Die schlechte Nachricht: Darüber hinaus ist alles vage, offen für Interpretationen – was man bereits aus "The Tree of Life" und "To the Wonder" kennt.
3/5